Advanced floating laboratory for the validation and experimentation of materials, components and equipment in real offshore environment
Designed and operated by
HarshLab is a unique floating laboratory for testing developments for the offshore industry in a real environment and under controlled conditions.
In 2023 it will be connected to the BiMEP submarine network that will provide electricity and optic fiber communication. Until then it is powered by a renewable electricity generation system that allows to obtain data from the installed equipment and transmit them from sea to land in real time.
Equipment, new materials and coating can be evaluated in a wide variety of conditions ranging from atmospheric to seabed. 
For the latter HarshLab offers a ROV for submarine inspections and a submarine modem for the development of novel communication systems with submerged devices.
Technical datasheet for HarshLab
Dimensions: 8,5 m diameter, 7,0 m high
Capacity: 
Exposition of more than 2000 samples in atmospheric, splash and immersion zones
Space for component testing:

60 m2 outdoor deck
57 m2 in hold

Main crane capacity: 1 ton @ 5,25 m
Auxiliar davit capacity: 300 kg @ 1,5 m
Maximum payload: 9 ton 
Grid connection 
Until the installation of the umbilical cable (planned for 2023) 
Renewable electricity generation system (photovoltaic and wind energy), supported by a battery system that provides energy to HarshLab depending of meteorological conditions.
3G communication system that allows to obtain data from the installed equipment and transmit them to land in real time. 
With connection to the submarine network of BiMEP (planned for 2023) 
Umbilical cable for power, auxiliar services and data
Connection to BiMEP's submarine grid at 690V/160 kVA
Internal working voltage: alternating current at 400V and 230V; and direct current at 24V and 12V
Designed for connecting third party devices testing in BiMEP area to the submarine grid.
During its three years of operation in open sea the previous HarshLab allowed more than 20 companies to obtain valuable information about the behavior of their materials in the marine environment: corrosion, aging and fouling.
More than 500 probes and samples were evaluated.
Conditions for the assessment
Umbilicals, connectors and risers
ROV for submarine operations
Testing of components in seabed (65m depth)
CORROSION
Atmospheric and splash zones have a corrosivity classification of CX. Immersion zone is classified as Im2, so both ensure the highest corrosion rate.
AGEING
HarshLab is a suitable site for testing materials and components of any material that need to withstand offshore conditions and to maintain its properties as flexibility, colour, brightness; among others.
ANTIFOULING
BiMEP is an open sea area especially prone to biofouling growth, so test immersion and splash zones of HarshLab are particularly suitable for testing experimental antifouling solutions under real offshore conditions.
TESTING OF OFFSHORE COMMUNICATION SYSTEMS
HarshLab is a suitable place for testing all kinds of sensory and communication systems for the offshore industry. The Laboratory has a 3G telecommunication connection, meteorological station, GPS based tracking system, submarine modem for communications of submerged devices with Surface and a small ROV for inspections.
RISERS, CONECTORS AND UMBILICALS
HarshLab offers two available connectors in the hull, which poses an excellent opportunity for the validation of innovative connection systems of risers, conectors and umbilicals in real conditions.
TESTING EQUIPMENT IN SERVICE
Able to host validation of grid connected prototypes in service in immersion, deck or in hold.
Corrosion and characterization in our Labs: We complement the results obtained in HarshLab with additional tests of corrosion, coating characterization, ageing in climatic chambers or under mechanical solicitation… that can be performed according to international standards or under specific demands.
Data Lab Services: We can provide to the users a full set of data related to the ongoing trials: environmental parameters (meteorological, oceanographic data), corrosion rate, appearance…) as well as valuable correlations between the observed variables, using advanced data analytics techniques.
R&D in HarshLab
HarshLab is an infrastructure open both to private projects and collaborative public private partnership initiatives. HarshLab helps researchers to understand in a reliable way how offshore conditions may hinder lifetime expectancy of components and equipment designed to withstand harsh conditions in offshore industry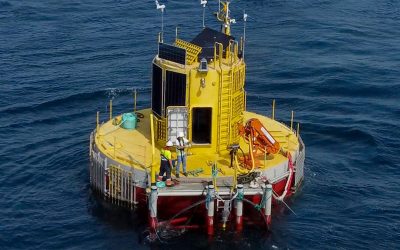 This infrastructure will improve the competitiveness of businesses by reliably predicting how different systems will behave in a marine environment We have developed a new laboratory that is larger and boasts better features and capabilities to undertake new tests and...
read more
HarshLab has been partly funded by Basque Government through the Grant Programme for the Acquisition of Scientific-Technological Infrastructures -AZPITEK nº PZ-2021/00001 – HL2.0